Nurcan Aral
Artist Nurcan Aral, who believes that an angel protects her works, reflects an angel sometimes invisible in her paintings as a signature. The artist believes that the angel brings good luck to whom the paintings are belonged.
The color tones and shades in her oil paintings bring the audience beyond the richness of her imaginery world.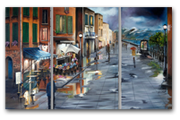 Artist's latest work, called "Viewpoint", has born after a painful productivity period. Artist has implemented the reflection of different habitats to discrete canvases with her latest painting.